First of all, let's get one thing straight, I'm talking about what's generally considered as the Avatar Mountains which inspired the Avatar movie, it's called Zhangjiajie National Forest Park but it's NOT inside the city of Zhangjiajie (ZJJ), it's a part of the Wulingyuan Scenic Area which is about 30km outside of the city of ZJJ.
Transportation:
You most likely will travel to Zhangjiajie city first, either via rail or plane. There are trains from Changsha City but the old kind so it takes about 4.5 - 5+hrs if you take direct trains. Mind you that there are 2 train stations in Changsha, you will be going to the old one, not the new one which is called Changsha South.
Train schedule and cost from Changsha - ZJJ below:
Flying in:
If you fly into ZJJ, the airport is about 15min drive to the ZJJ train/bus station, taxi's costs around 20-30rmb, if you walk outside the airport to hail it's cheaper as they don't pay for parking. If you arrive late at night taxi normally charge up to 100rmb. It's common practice they don't use meters, so negotiate in advance or download DIDI (chinese uber).
The airpot is 35km from the Avatar mountains, there is no direct bus, you will have to get to the ZJJ bus station first to take the bus, or you can take a taxi for about 250rmb directly there.
There is a free shuttle bus (with boarding pass) from the airport to ZJJ city, but it doesn't stop at the train/bus station, to which you still have to take a taxi, so you might as well just take a taxi from airport to the stations.
Once you arrive in ZJJ, most people stay and visit Tianmen Mountain which is very close to the ZJJ train station and only takes just half day to see. We skipped this as tickets are sold out, if you want to visit Tianmen Mountain you should book your tickets online (or via agency) much in advance or wake up as early as 5am to line up and get tickets.
Tianmen Mountain photo from internet:
If you want to skip Tianmen Mountain and go straight to the Avatar Mountains, you can just hop on a bus or taxi from the ZJJ bus station which is right beside the train station. Get tickets to Wulingyuan Bus station.The bus ride is about 40min, 12rmb/ticket. Taxi is just about the same time as the bus drives very fast, costs around 100rmb. So just take the bus.
Once you arrive at Wulingyuan Bus Station, you should contact your accommodation host to pick you up as many of them offer such service. Although depends on where you stay, you can also just walk.
Accommodation:
It's advisable to stay near a gate that's less popular as it could take long lines to get tickets or enter the park. We stayed at Zimugang Gate which is about 20min drive up from the bus station. Most tourists stay at the main gate which is inside the town where bus station is.
Tickets & Entrance:
There are 5 entrances in total, you can buy tickets at any of them:
Biaozhi men(gate): most popular, avoid to skip long lines
Seng ling gong yuan (gate): most popular, avoid to skip long lines
Yangjiajie: it leads to Yangjiajie section
Tianzishan: it leads to Tianzi Mountain section
Zimugang: half way up the mountain, almost no lines here for entry
Ticket costs 225rmb for adults, student price available with valid student ID
Tickets are valid for 4 days, they collect finger prints every time you enter, so no chance to share smarties
Sections: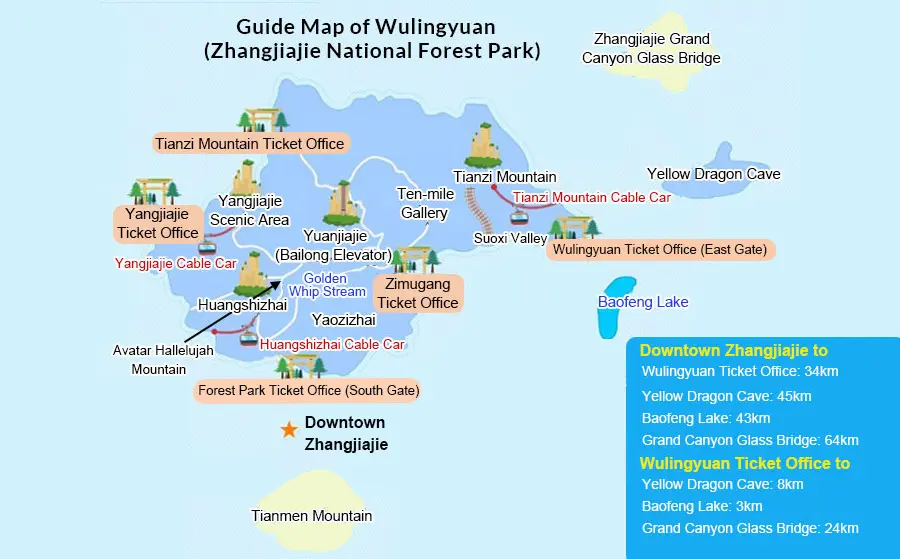 Main sections of the park are:
Yuanjiajie: where the floating mountain scene in Avatar originated from:
Golden Whip Stream: connects most of the main attractions if you want to visit by foot, easy pleasant walk, you can get some mountain views while walking too from the valley:
Tianzi Mountain: the most breathtaking part in my opinion. Mountains here are tallest and sharpest. It's a 30 internal bus ride from the rest of the park unless you enter from the Tianzi Entrance.
Some notes on Route and Timing
The park itself is huge, to see it properly you need at least 3 days. Note that depends on which entrance you take, you may need to take internal shuttle buses to get to the actual scenic area. For example we used Muzigang entrance to skip lines, but have to take a 15min shuttle ride to get to "Shui Rao Si Men" station where you can start walking inside the park or transfer shuttles to get to Tianzi Mountain. A photo of the pink shuttle bus (all internal transportation are free, but note outside cars/taxis are not allowed to enter):
It opens early in the morning at 7:30am, but it starts to shut down around 6pm around sundown, the last in-park transportation buses leave at 7pm. You are not allowed to stay inside the park after dark as it's a wild park so it's dangerous.
As we are short on time (only one and a half days) we sticked to the main sections, but insisted on hiking up and down. To save time and energy, you can take a 66 second elevator up the Yuanjiajie section (but you need to line up for a long time and you don't get to see much during the short ride) or take the cable car up and down (there are 3), as well as a tourist train, cost breakdown I found online here:
For the first half day we just walked along the Golden Whip Stream. The next day we hiked up Yuanjiajie and Tianzi Mountain. It was just enough time, but we skipped a lot of things. When we were leaving Tianzi Mountain, there are 2 routes going down, we took the faster one (it also lead us to a very serene valley with small water streams coming down from the mountain), otherwise you can go towards the 10 Mile Gallery, which we skipped.
We found the best hour to enter is noon, early in the morning you will see a bunch keen tourist groups.
Generally, Spring and Fall are the best time to visit, but avoid 1st week of October, that's the peak of peak season. We went right before Oct 1, it was busy but not crowded, perfect weather as well. Winter is doable also. Avoid climbing when raining, the stone steps could be slippery.
Additional Tips:
Pack lunch and water, they are costly inside and not so good either.
Temperature inside the park is lower than outside, but if you are planning on hiking/climbing it's a crazy workout, temperature difference between day and night is also quite big in the fall, so dress accordingly.
I find the only way to really enjoy the majestic scene is by hiking, because that's the ONLY way you can avoid the loud tour groups, they WILL ruin your experience.
There are monkeys inside the park, they tend to gather around the park entrances as that's normally where they find food. They are harmless but they do attack people if you bother them. The general rule is not to feed them. There are also snakes up the mountain but not commonly seen, just be aware.
There are many hidden viewpoints inside the park, if you are keen to experience them all it's better to hire a guide, otherwise just step off the main routes and explore a bit. We found one on Tianzi Mountain literally just by poking around. It's just off the Yueliang Gallery near the large "Tian Nv San Hua" viewing platform. Once you pass the commercial area and the small museum, walk off the main road and go upward, you will find a nice platform but that's not it, just beside it there is an iron stair case, climb down there is a small bridge platform hanging outward, you will be shocked by the view you find here: