Shenzhen as the heart of the China Greater Bay area and the capital of information technology of the country is attracting millions of visitors each year. Although most people come to Shenzhen for business, it is easy to overlook the fact that it's am extremely beautiful place to visit as well.
Traditional tourists traps as I call it are theme parks like "Window of the world" "Happy Valley" "OCT east" etc, they could be fun if it's your first time or you are not visiting during peak season (like first week of May/Oct, or July & Aug, or around Jan/Feb for Chinese new year, or any other Chinese holidays)
But if you want to experience the city like a local, I have some better suggestions:
1.OCT Loft:
This is an art & design area where a lot of hip things are happening. You will find very artistic and creative graffitis, galleries, shops, cafes, etc. Every Sunday there is also a creative market that shouldn't be missed.
Transportation:
Metro Line 1 to Qiaocheng East (侨城东)!ATT! it's easy to make mistake here because the name. Note you will NOT get off at OCT station, but the one before OCT station
If you take a taxi, make sure you specify to go to OCT Loft (华侨城创意园) not OCT east (东部华侨城) which is outside of the city
2.Lianhua Park - Upper Hills
Lianhua Park is kinda like the Central park of Shenzhen. It's on a little hill close to Futian Huanggang Boarder (to Hong Kong) and is connected with the new commercial area Upper Hills, which is a new modern, chic, design shopping area - which used to be an old electronic factory zone. There is a MUJI hotel that shouldn't be missed.
Transportation:
You can take metro to Line 3 to Children's Palace(少年宫) or Lianhuacun (莲花村)to access the park then walk to the Upper Loft area.
The Upper loft area as of now is still new. It will soon be connected to Metro Line 10. For now taxi is the best option if you want to go directly to the Upper Loft.
The park is 4000sq metres big so reserve some time and wear comfy shoes
3.Xichong Beach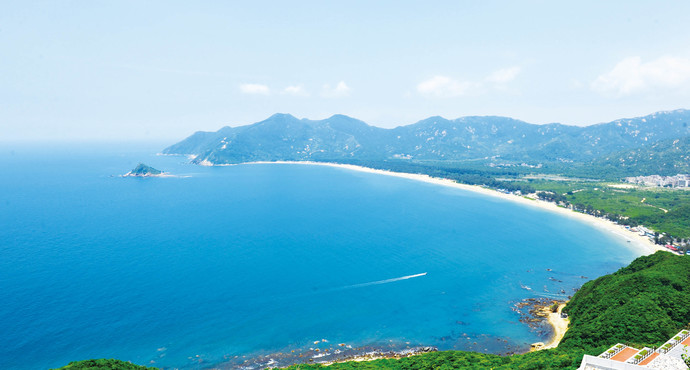 While most tourists rush to Dameisha or Xiaomeisha Beach, Xichong has a way better beach and more clear water.
Transportation:
Bus e11 from Shenzhen to Nanao Station(南澳总站), switch to m232 to No.34 Toll Station (三四号收费站)
Travel time: 1-2 hours from city centre depends on traffic and which zone you are at.
4.Dapeng Suocheng Old Town
It's very rare to see anything ancient in Shenzhen nowadays. If you go outside of the city there is still one place that reminds you that Shenzhen did have a history. Suocheng used to be a key navy station of the Ming and Qing dynasty. The town kept some old buildings to take you back in time.
Transportation:
Metro Line 2 or 5 to Huangbeilin (黄贝岭) then switch to bus e26 (which departs from Futian) to Get to Dapeng Bus Station (大鹏汽车站)then take bus m471 to Suocheng Station
to be continued...